WTF AFRICA- WOMAN CALLS HER BROTHER WIZARD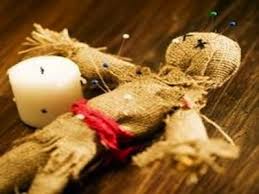 A WOMAN from Bulawayo's Nguboyenja suburb has accused her brother of being a wizard after he allegedly killed her two children following a family dispute.
Patricia Sibanda, 48, appeared in court facing a charge of violating the Suppression of Witchcraft Act.
Prosecuting, Calington Dhliwayo, told the court that Sibanda accused her brother, Derick Victor of killing her children while she was in the rural areas.
"On April 19, at around 9PM, Sibanda and Victor had a dispute over the family house. Victor then ordered Sibanda to vacate the family house along with her two children. He also asked her if she would only vacate after someone dies as a result of their dispute," said Dhliwayo.
"Sibanda then accused Victor of being a wizard and that he killed her two children while she was away in their rural home. She also asked him if he wanted to kill her the same way he killed her children, namely, Jealous Kambeni and Olleta Chawuka."
Sibanda however, denied the charge and in her defence said the dispute arose after Victor locked her two remaining children out of the house.
"I am a mother of four but Jealous and Olleta passed away two years ago. I often visit the rural areas and I left them in Victor's custody. On my return they told me that he would lock them out of the house," said Sibanda.
She said when Victor asked her if she wanted someone to die; she asked him how he would feel if someone accused him of being a killer.
Magistrate Tinashe Tashaya remanded Sibanda out of custody to June 26 for trial.
W