WTF AFRICA- THE CASE OF THE TEEFING RABBIT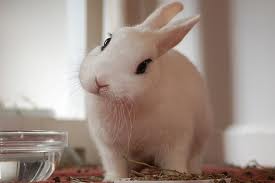 Villagers in Gwitshi in Nkayi are in a state of shock after discovering that an elder woman in the village was in the habit of sending a rabbit to steal cash from them.
Evelyn Tshuma was sniffed out by witch-hunters last week.
The rabbit is code-named Black Jesus and is said to have huge eyes.
One of the villagers- Thembani Ncube said the witch-hunters greatly assisted them in singling out the old lady.
"Villagers where always complaining that their money mysterious disappears especially $1 and $2 notes.
"They initially thought their kids were stealing the cash but little did they know a rabbit (black Jesus) was behind this.
"When the witch-hunters did their job, the rabbit was from stealing from a certain homestead."
Added another villager, Sibongile Ndlovu "the owner of the homestead initially admitted that she owns something that steals people's money but later denied owning the rabbit when the witch-hunters where on their task."