WTF AFRICA- MAN DIVORCES PREGNANT BECAUSE HE SUSPECTED MONEY RITUAL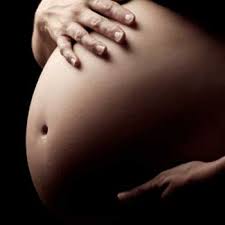 I have gathered from our sources that Timothy McAbel and Ujunwa Esinuolo got married on November 29, 2008, stayed through the years with no kids till sometime late 2011 when she told her husband she was pregnant. Ujunwa has a naturally bulging tommy, so to confirm the truth of the pregnancy, he tried all he could to take her for a pregnancy test which she refused to go, only for her to tell him a few months later after he left for Ghana on business that she went for a scan and confirmed the pregnancy was already 7 months. It was his third week in Ghana when she called him at 11pm to break the news that labour had started; 7 months and 3 weeks? He said to her that it must be premature but she insisted that it was due. He told her to hold on for his friend to come drive her to the hospital, but she refused claiming that her elder sister Lovelyn is with her. He reminded her that Lovelyn can not drive and again she emphasised that Lovelyn is the only one whom she wants to be with. So he left her to her preference waiting for the dynamics of the drama to develop. Later on, her phone and her elder sister's phone went off. He tried to reach them to no avail untill 1a.m at midnight when she called to tell him that she had been put to bed of a baby boy and girl (twins). He asked her which hospital in Port Harcourt she was admitted and she murmured that she was in so much after-labour pains so she couldn't remember which hospital she was. He understood and simply told her to pass her elder sister the phone and guess what, she said that her sister went out to buy something. At 1a.m? He quizzed! After which he told her to give the phone to any nurse she can find with her. She told him all the nurses left her alone in the ward and her phone suddenly went off again. By 6:30a.m, she called him again, this time she told him that the Doctor had discharged her. Essentially, he realized that her phone only came on when she had something new to tell him, and off her phone went yet another round. A woman who claimed to be pregnant, Had just put to bed but without any antenattal record.
He flew back from Ghana very eager to see the twin babies and their mother at home. But to his dismay, he didn`t. He called and found out that she was at her sister's house in Aba claiming that assassins were after her. After he brought them back toPort Harcourt, he discovered it was the Police looking for her over a report at SOS Police station and a letter recieved from RIVERS STATE SOCIAL WELFARE DEPARTMENT both accusing her of CHILD TRAFFICKING. She was defenseless . When her friend who filed the report against her narrated with evidence that the kids were bought from two different sources, and that the pregnancy was a scam, then he asked for some time to conduct a personal investigation. After lots of questioning, she refused opening up to the truth or even preferably, take him to where she delivered. Then he noticed almost immediately that she wasn`t breastfeeding her supposed twin babies. She only kept asserting again and again that not all women who give birth bosom feed. At this point, he saw that the only option was to go for a Maternity or a DNA test. That deteriorated into a heated quarrel when she vowed that he won't ever see the money to do any of such. At first, he took it for nothing, but when his businesses suddenly took a decline, His attention immediately shifted from the DNA issue to salvaging his crumbling businesses and failing finances. This continued through a year and seven months to August 16, 2013. Amid failed attempts to revive his finances; he returned to square zero, and then it occured to him that he might have been under some form of evil manipulations. Just then, by a sudden feat of fate, while his bedroom was being rearranged, he found two strange looking bottles under his bed- a bottle of Schnapp with bundle of sticks tied together, and a small squadron bottle with a big cross inside. When he asked her how those bottles got there, the only answer she gave was that she stepped on poison that he did not know about and that she was using the liquid content of those bottles to cure the poison. On Friday August 16, 2013, the jinx on him was broken and he took the twin babies for a DNA test just after she had left for work. By evening, the news got to her and she alerted her family. Next day being saturday, he recieved a threatening text message from a strange number saying: YOU HAVE STARTED A BATTLE YOU WON`T FINISH. He called the number only to discover it was Lovelyn her elder sister. And she verbally repeated the same words she sent in the text message. When he got back home. He found out that JASPER her elder brother had absconded with the supposed twin babies. It became clearer to him that they ran away with those kids for fear the test result will reveal the truth about the kid`s paternity. When he saw the high level of her family's complicity in her evil deeds, he divorced her on August 17, 2013. They have since date remained divorced!