WTF AFRICA-GHANIAN PRIEST SAY HIM OBEAH DI WORLDCUP PLAYER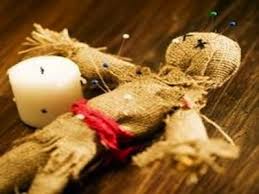 A Ghanaian priest claims he's behind a series of injuries ailing Portuguese captain Cristiano Ronaldo, who was forced to sit out last weekend's friendly with Greece and is a question mark ahead of the tournament that kicks off on June 12.
Nana Kwaku Bonsam, considered by some as Ghana's most influential witch doctor, apparently predicted Ronaldo would miss the World Cup shortly after his country was drawn with Portugal in Group G, along with Germany and the United States.
Sure enough, the Real Madrid superstar was recently diagnosed with tendinitis in his left knee as well as a left thigh strain.
"I know what Cristiano Ronaldo's injury is about, I'm working on him," Bonsam – whose name apparently translates to "Devil of Wednesday" in English – told local radio station Angel FM, The Guardian reported.
"This injury can never be cured by any medic, they can never see what is causing the injury because it is spiritual. Today, it is his knee, tomorrow it is his thigh, next day it is something else.
"I am very serious about it. Last week, I went around looking for four dogs and I got them to be used in manufacturing a special spirit called Kahwiri Kapam."
"I will work on Cristiano Ronaldo seriously and rule him out of the World up or at least prevent him from playing against Ghana."
l