TIVOLI ENQUIRY WITNESS LOST 1M AFTER SOLDIERS INVADED TIVOLI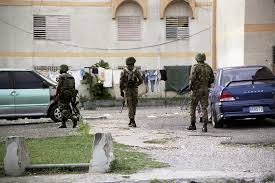 The fourth witness in the ongoing Tivoli Gardens Enquiry, Troy Palmer, testified today that he received injuries to his knee and back after being struck by a soldier on May 24, 2010 during the search for Christopher 'Dudus' Coke.
Palmer also said that one of his shops was destroyed, items in his house damaged and about $100,000 stolen.
He told the Enquiry that he lost a total of a $1 million dollars as a result of damage to his property and his missing bike.
But under cross examination from attorney Linton Graham, representing the Jamaica Defence Force (JDF) Palmer said that he only sought emergency surgery in 2013 and 2014 at the University Hospital of the West Indies, but not in 2010.
Palmer said that in his examination-in-chief that he was detained for four days at the National Arena but under examination it was pointed out that a document that he provided states the he was detained on May 27, 2010 and released the same day.
Questioned by attorney Michael Lorne he explained that the police made an error and when he attempted to get it corrected he was told to leave the premises.
Paul Henry