CAMPERDOWN HIGH SCHOOL ASSITANT COACH SHOT AND KILLED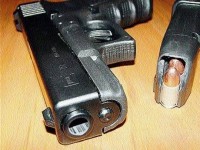 The assistant coach of the Camperdown High School's Manning Cup team was yesterday shot dead by unknown assailants.
Dead is 51-year-old Claude Palmer of a Mountain View address in East Kingston.
Reports reaching OBSERVER ONLINE are that Palmer was standing at the intersection of Giltress and Montaque Street in east Kingston about 4:00 pm when two men rode up on a red motorcycle.
It is said that the pillion rider pulled a firearm and opened gunfire hitting Palmer in the back of his head.
No motive has been established for the killing.
**********My sources tell me that Mr Palmer was shot before and was able to identify his attackers, the case is still before the courts and the youngster is behind bars. Word on the street is that the case was coming to a close and everything was looking good as far as the attacker being sent to jail is concerned. The young man who rode on the motorcycle allegedly was a friend of the previous attacker. Mr Palmer received one shot to the head but was not dead , the Rollington Town Police Station that is less than 200ft away was said to have no vehicle to transport Mr. Palmer right away to the hospital***********