*TEARS* PASTOR REALLY BAD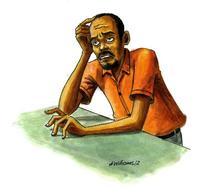 Dear Pastor,
I have been in a relationship with a girl for four years. It has been the best time of our lives. However, since the last four months or so, it has not been going well at all. It's all my fault for making things happen. I mean, I accidentally searched her phone and saw messages which caused us to have a fight and I abused her. She told me that it was her sister's phone but I didn't believe her until her sister confirmed it.
Recently, she met this other guy and ended up liking him, but I know she still loves me because she told me so. She told me that she wants a break from the relationship. I think she wants to talk to the guy in the mean time. The secret is she says I must not tell anyone that we are taking a break from the relationship and she is coming back to me. But I don't know how long it's going to take.
I love her so much. I have a feeling that she's not coming back to me, and I am so sorry for what I had done. Pastor can you help me, please?
A.S.
Dear A. S.,
You are too lie, you didn't accidentally find the messages on the phone. You deliberately searched the phone and saw the messages, so why are you lying about it? You beat up your girlfriend when you saw the messages. Who gave you that authority to abuse her? She told you that the phone belonged to her sister and her sister confirmed that she was speaking the truth. Whether her sister was covering for her or what she said was true, you had no right to hit her. And I am going to tell you straight up. This woman should drop you like hot bread.
By the way, young man, she has already dropped you, but she is doing it with much grace and dignity. She told you that she wants a break from the relationship. That is a nice way of telling you to get lost and to push your head in an ants nest. She's gone. She's in the arms of another man. Man that's hot to take, but you caused it.
Yeah man, you are right, she is not coming back to you so get over it.
Pastor