SMADDY TELL HAR ITS HIGHLY UNLIKELY PLEASE- AMERICAN WANTS BACK MONEY SHE WAS SCAMMED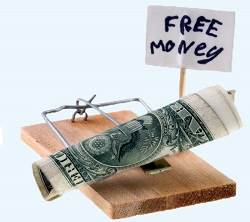 Despite hours of intelligence-driven operations by local law-enforcement agencies and their United States (US) partners, Jamaican scammers are continuing to con millions of dollars from unsuspecting Americans.
Following one of the latest incidents, Utah resident, 33-year-old Sara Maxwell, is begging for a return of the US$1,850 (approximately J$202,000) she sent to scammers through money-transfer agencies.
"We are having financial difficulties because I am having problems trying to feed my kids, I spent all this money thinking I was going to win … and, technically, we're just barely getting by. I just want my money back because I feel bad that I did that to my family," Maxwell told The Sunday Gleaner late last week.
According to Maxwell, on June 26, she was contacted by persons using phones with 876 area codes who informed her that her husband had won US$4.5 million, US$250,000 in cash, and a trip to Las Vegas. However, to collect this jackpot, she needed to send processing and handling fees.
Overjoyed with the possible windfall, Maxwell promptly sent the money without her husband's knowledge, and was promised that her winnings would be delivered by truck.
"I thought it was true. They told me to keep all the receipts for the money that I had sent them and that they would reimburse me when they got here."
To sweeten the pot, on July 5, Maxwell was told she had also won a Mercedes-Benz motor car.
"They wanted US$300 more and I told them I didn't have any more money. 'You took it all'," Maxwell told the two men who claimed to be representing an American online sweepstakes company whose latest offer promises lucky winners US$5,000 a week for life.
Maxwell said she could not send the additional money because, by then, she had depleted all the family's resources trying to collect the winnings. With no prize money coming, she started to believe this was a scam.
"I asked them if they were from Jamaica and they said Jamaica, New York," she told The Sunday Gleaner.
In a bid to retrieve her money, Maxwell told the men, who she said would call her up to 10 times a day, that she wanted it back. When she made no headway, she contacted American law-enforcement officials.
"I went down to the Sheriff's Department and they said it was a scam: 'Don't send any money to anybody. If you won money, they will send you a cheque or deliver it to your house. Other than that, you don't send any money to any company'," Maxwell said she was told.
Scammers unrelenting
Maxwell said the scammers were unrelenting and only let up when she told them that she had been in touch with law-enforcement officials.
"When I spoke to the (scammers) today (July 7), I told them all I want is my money back and they said this isn't a scam. I told them I want my money back and they said 'we can send it, but you have to talk to me and nobody else.' And I said, 'Well I can't talk to you because I have already called the sheriff,' and that's when he hung up on me.
"They said that they would work on getting my money back to me and I would have to sign a thing that they can send to the winnings department so that they can put the money that I won into some kind of charity."
The Grand County Sheriff's Department in Moab, Utah, last week confirmed that it had received a report from Maxwell and an investigation is being carried out. The matter has also been reported to the local Lottery Scam Task Force.
Stories similar to Maxwell's, repeated hundreds of times over the past five years, pushed the American authorities to pressure Jamaica to pass legislation to address this scourge.
Since the law was passed in March 2013, more than 500 alleged scammers have been arrested and charged, with a large portion of that group convicted.
The Major Organised Crime and Anti-Corruption Task Force (MOCA) is the police unit tasked with going after the scammers, and communications liaison with the unit, Inspector Dahlia Garrick, says they have been seeing some success.
"Only today (last Thursday), we carried out an investigation in the western end of the island where 14 persons were arrested," declared Garrick. Another alleged scammer was arrested last Friday as part of the operation.
That operation was conducted by law-enforcement agencies from Jamaica and the United States, and Garrick said it was a "culmination of an operation that started in January in Florida".
Just a little under US$250,000, believed to be the proceeds of scamming, was seized by the police during that operation. According to the police, the money had been sent to 28 Jamaicans living in America by more than 30 elderly US citizens, with the Jamaicans reportedly planning to take the money to local scammers.
Investigations into that seizure led the cops to St Elizabeth, Westmoreland, and Hanover, where the 15 persons were held.
"There is a lot of collaborative work being done both to disrupt and to educate. The efforts have always been a collaborative one, because the victims are often within another jurisdiction," said Garrick.
ryon.jones@gleanerjm.com