POLICE SHOOT ROBBERS WHO ROBBED BEARER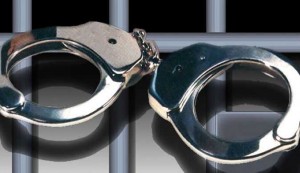 ONE of two men who allegedly held up and robbed a bearer of over $2 million in Half-Way-Tree yesterday morning was shot dead on Cargill Avenue after taking police on a car chase through the streets of the St Andrew capital.
Police said a firearm was also seized during the incident.
Reports are that at about 9:00 am a bearer for a corporate company went to a financial institution to conduct business when he was attacked and robbed, then shot and injured.
The men tried to escape on a motorcycle but were confronted by members of a police team that was in the area. The police report that the men opened fire at them but were chased and cornered on Cargill Avenue.
"During the gun battle one of the attackers was shot and killed while the other managed to escape," said one policeman on the scene.
The incident left a number of persons in the area in shock.
"We only hope that the police will not ease up their investigation on this matter and will also continue to maintain a strong presence in the area to send a message to criminals," said a member of a small group that gathered behind yellow tapes used to cordon off the scene of the shooting.
Police have since launched a manhunt for the other alleged robber.
— Kimmo Matthews
ADVERTISEMENT