LASCO TOP COP ON RAPE CHARGE
Lasco top cop offered bail in rape case yesterday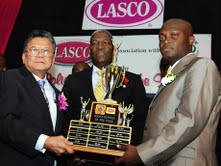 The reigning LASCO top cop for 2012-2013, who is facing a rape charge, appeared yesterday in the Corporate Area Resident Magistrate's Court and was offered bail in the sum of $300,000 with a surety.
He is 32-year-old Sergeant Oneil Patterson and he has been ordered to return to court on July 9 for a preliminary inquiry into the matter.
The Crown is alleging that on May 23, he sexually assaulted a 29-year-old medical doctor in his motor car on the compound of the Elletson Road Police Station in Kingston.
It is further alleged that the accused and the complainant had gone on a date when the incident took place.
Attorney-at-law Tamika Harris, in making the bail application, said Patterson was not a flight risk. She said he would not interfere with the witness and regarded his reputation too dear to jeopardise it. She also told the court that Patterson was willing to answer to the allegations.
Patterson was charged this week following a ruling by the director of public prosecutions.