JMG INTERVIEWS PAUL MICHAEL
Hey P.M long time, how are you?
Im great! Thank you. How about yourself?
What's new?
Wow! There is so much going on right now. I'm very excited to have a chance to talk with you today.
Before we go any further I must commend you on your mixes and the quality of them
Thank you. I appreciate the compliment.
What has been going on for you career wise this year?
This year has been full of new opportunities. In April, I was the featured guest for the Art of Juggling Segment on Seani B's BBC 1Xtra Radio program in the UK.
Also, this year I've had the opportunity to perform in several places for the first time. Recently I was in the DC area for the first time and Indianapolis twice. I will also be in Miami / Ft. Lauderdale for the first time ever in October for Rum Punch; which I'm very excited about. Finally, I relocated to NYC which is starting to open up a lot of new doors for me as well.
I want to ask you about the music, how is Dancehall looking to you right now?
From my perspective, dancehall is looking up right now. A few years ago it seemed as if only Vybz Kartel's music was really getting the support from many Dancehall selectors. Recently, we have seen a greater number of artists' music being played in heavy rotation. In addition to Vybz Kartel, tunes from Popcaan, Alkaline, Aidonia and Mavado are always popular. Konshens, Tifa, Spice and Charly Blacks have all had great success as well. Additionally, over the past 2 years, Dexta Daps, Jahmiel, Masicka and Vershon have all had tunes which have done very well in dancehall and Ding Dong, Chi Ching Ching and UK artist Don Andre have all scored with crowd favorites.
Who are the top artistes and the must have tracks?
The top artists in the Dancehall right now are Popcaan, Vybz Kartel and Alkaline. Popcaan has several must play tunes including World Cup, Nah Idle and Ova Dweet. Vybz Kartel's Fever, Western Union and Training Wheels are always in high demand. Alkaline's Formula, City and Company are still crowd favorites. In addition to those previously mentioned tunes, Xklusive's Big Money Poppin is a huge tune in the Dancehall/parties right now.
Where do you think Dancehall is headed right now?
Dancehall is back on the rise. The music seems to be heading back to embracing the classic elements which made it such an amazing genre. I see Dancehall expanding and growing in international popularity over the next few years.
Are there any dancehall artistes that you think are underrated?
Absolutely. There are several underrated artists in Dancehall. Busy Signal and Bugle are two of my favorite artists who are supremely talented, yet I feel are underrated. There is also a very talented young female artist, Marcy Chin, who is extremely talented and extremely underrated.
Why do you think they are?
One of the primary reasons artists, especially younger artists, may be underrated in a particular market is they either lack the resources, or do not allocate the necessary resources for the adequate marketing and promotion of themselves and their music within those markets.
What changed Dancehall and how do you think Dancehall could get back its spark?
For a period of time, Dancehall had gotten away from it's roots. There was a total disconnect from the fundamental elements which made Dancehall such a unique and special musical genre. Change is natural and progress and innovation are good as long as there this still some sort of connection to the foundation. Things tend to go in cycles and, recently, it seems as if the music is beginning to re-embrace those fundamental elements which made Dancehall great.
One of the issues with the music in general is technology has made it relatively easy for aspiring DJs to enter the business. DJs no longer have to spend years building record collections and learning music in the process. They can simply purchase a laptop and a controller and download music or get it from a friend. Many young DJs and selectors never had to learn music. They don't know the music properly so they don't play the music properly and the young crowd isn't exposed to the music properly. The result is the music and culture gets lost. I think it's very important that influential DJs lead the charge in ensuring the younger generation of reggae and Dancehall fans are properly exposed to the music.
Do you think it's a good thing when dancehall artistes cross over or do you believe that they should stick to keeping the music authentic?
I feel an artist should have the freedom to express his or herself creatively with other musical genres. There is no reason why an artist cannot make good Dancehall music and also make good music in other genres as well.
In terms of legacy, which Dancehall artiste right now do you think will leave a legacy that will go on even after they have gone?
Vybz Kartel is the current artist that comes to mind right away. He has dominated Dancehall over the past decade and he has had a profound influence on the music and the culture.
How did you get introduced to Dancehall?
I was first introduced to Reggae music when I was around 13 years old by a family friend. Like many Americans, my first exposure to reggae music was Bob Marley. I really liked the music so I started listening to more of it from different artists like Black Uhuru and Barrington Levy. Eventually I found Dancehall and I loved it. I began listening to artists like Shabba Ranks and Ninjaman; and later Buju Banton. The first stage show I ever attended ( of any musical genre ) was Shabba Ranks and Richie Stephens.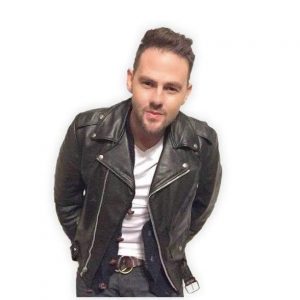 What clubs have you played in and where can your fans find you on any given weekend?
Over the course of my music career I have played in virtually every venue in New England and NYC. In addition, I've had the opportunity to play at Fiction in Jamaica a few times last year and I'm looking forward to returning to Jamaica later this year.
I still drive back to Providence, RI from NYC every weekend to do my regular weekend events. Every Friday I do Fete Fridays at Fete Music Hall and every Saturday I do Island Saturdays at a venue called Victor Spoils. Island Saturdays is dedicated to Caribbean music and features 100% Dancehall, reggae, Soca and Afrobeats. We do not play any rap music on Saturdays and a lot of people in the area really appreciate that.
Do you think that the Jamaican culture is still reflected in the music?
There is a lot of music that clearly is pop, international or EDM influenced to such an extent where it doesn't really tie in to the roots of Jamaican music or culture, however, I do feel Jamaican culture is reflected in the music from the majority of Dancehall artists; especially in music released over the past year or so.
What do you think Buju Banton's career will be like when he comes out?
Buju is my all time favorite artist. I grew up listening to Buju, I've played on Buju concerts and I've had the privilege of attending many of his stage shows, both, before and after his conscious transformation. Buju has a huge fan base worldwide and we are all eagerly awaiting his return to the music.
What Jamaican selectors have your utmost respect ?
There are so many selectors for whom I have a great deal of respect and admiration for. I came from the sound system era of the early 90's and I've had the privilege to experience first hand (and actually play on dances with) a lot of iconic sounds such as Stone Love, Bodyguard, Jaro, King Addies, Bass Odyssey, Metromedia and many others. I have the greatest admiration for Johnny from Bodyguard, Squingy from Bass Odyssey, Rory from Stone Love and Sir David Rodigan (even though he is not technically Jamaican ). Growing up I had the utmost admiration for Tony Matterhorn; both, as a selector for King Addies and also as a solo selector. Matterhorn really changed the game for Dancehall selectors. Currently, the selector I respect and admire the most is Kevin Crown out of NYC. He really takes creativity and versatility to another level.
What Jamaican phrases do you use on a daily basis?
Jerk chicken, festival, oxtail with rice & peas (I love food) haha.
Who taught you patois?
I just kind of picked it up along the way from being immersed in the music and culture for so long. I do, however, make it a point to speak in a straight American dialect on the mic when performing. Firstly, not everyone who comes out to my events can necessarily understand patois, so I want to interact with the crowd in a way in which everyone can understand. Secondly, I feel it's important to just be myself and, although I may throw around a patois phrase now and then, I prefer to remain authentic to who I am. I do my best to communicate honestly and I think people appreciate that.
What do you think of other nationalities singing tracks with Dancehall rhythms but not giving credit for it?
I think it's great international artists and pop artists embrace reggae and Dancehall as long as proper credit is given so the genre as a whole can benefit. It's not right when a big international pop artist makes a Dancehall track and calls it something else other than Dancehall; i.e. 'tropical house'.
Do you think Jamaican artistes do enough to secure Dancehall/reggae's culture?
There are some artists who are disconnected from the culture of Dancehall and reggae music. However, artists like Chronixx, Kabaka Pyramid, Protoje, Jah9 & Jesse Royal really embody the essence of classic Dancehall and reggae music culture. Also, Popcaan is a very authentic artist who effectively conveys his story through music, and there are other artists out there as well who reflect the culture through their music.
Where can people access your music online and find you on social media?
I have a ton of mixes and live party audio recordings up on soundcloud. People can go to www.soundcloud.com/paul-michael-3
Facebook: @therealpaulmichael
Twitter: @djpaulmichael
Instagram & snapchat: DJPAULMICHAEL