ASAFA & SIMPSON'S DATE SET
Pre-trial dates set for Asafa, Sherone and 3 other athletes
BY JIS
Saturday, September 07, 2013
Print this page Email A Friend!
PRE-TRIAL dates were yesterday set for five Jamaican athletes who were said to have returned adverse analytical findings at the National Senior and Junior Championships in June.
They include former 100-metre world record holder and Olympian Asafa Powell, and 2004 Olympic relay gold medallist Sherone Simpson.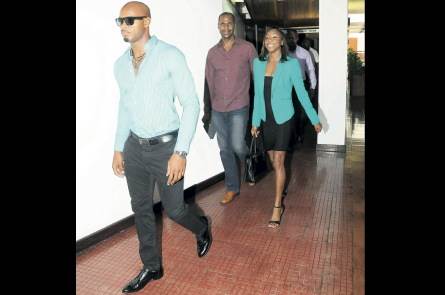 Asafa Powell (left), along with Bruce James (centre), MVP president, and Sherone Simpson as they exited a room at the Jamaica Conference Centre yesterday, where pre-trial dates were set for them to answer to charges of doping violation. (PHOTO: BRYAN CUMMINGS)
[Restore Description]
1/1
The others are national record holder in the men's discus, Traves Smikle; discus thrower Allison Randall; and triple jumper Demar Robinson.
The athletes, with the exception of Randall, who currently resides overseas, faced members of the Jamaica Anti-Doping Commission (JADCO) disciplinary panel, during a mentioning of the disciplinary hearing held yesterday at the Jamaica Conference Centre in downtown Kingston, where the pre-trial dates were set.
The date for Smikle, Randall, and Robinson, who are all represented by a team of attorneys led by Dr Lloyd Barnett, William Panton and Sabrina Cross, has been set for Friday, September 20 at 10:00 am at the Jamaica Conference Centre.
Smikle will face a four-member pre-trial panel comprising former Director of Public Prosecutions (DPP) and Chairman of the Anti-Doping Disciplinary Panel Kent Pantry; Deputy DPP and Second Vice-Chairman Jeremy Taylor; physician Ivor Crandon; and Olympian Juliet Cuthbert-Flynn.
Additionally, a four-member panel consisting of Pantry; Taylor; physician Dr Archie McDonald; and FIFA referee Peter Prendergast will head the pre-trial hearing for Robinson.
Randall will sit before a four-member panel, which includes Pantry, Taylor, Dr McDonald and Cuthbert-Flynn.
As regards Powell and Simpson, who are being represented by attorneys Kwame Gordon and Danielle Chai, a pre-trial hearing has been set for Friday, September 27 at 10:00 am at the Jamaica Conference Centre.
A three-member panel, led by attorney-at-law and Vice-Chairman of the Anti-Doping Disciplinary Panel Lennox Gayle; physician Dr Jephthah Ford and Prendergast will preside over both Simpson and Powell's pre-trial hearings.
Both Powell and Simpson tested positive for the stimulant oxilofrine at the national trials in June. Powell has blamed his positive test on a range of new nutritional supplements prescribed to him by a physiotherapist.
Pantry, who led the proceedings, informed that the matters concerning all five athletes would not be heard during the pre-trial hearings.
"The pre-trial is really where certain orders will be made for documentation and other things and then a (disciplinary) hearing date will be agreed on (for each athlete) on that day," he stated.
Representing JADCO at yesterday's mentioning were Chairman Dr Herbert Elliot, and attorney-at-law Lackston Robinson.
Meanwhile, JADCO has informed that B samples for all five athletes have confirmed the prohibited substances, which were found in the A-sample analyses in June. The B samples were tested at a Montreal-based lab accredited by the World Anti-Doping Agency.
Read more: http://www.jamaicaobserver.com/sport/Pre-trial-dates-set-for-Asafa–Sherone-and-3-other-athletes_15013815#ixzz2eCzV5m7q