OBSERVER PRINT IT PRINT IT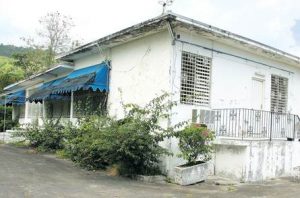 Caretaker wants uncontrollable gay men out of Millsborough house
J-FLAG denies abandoning homeless gay men
Wednesday, June 12, 2013
SOME of the 17 gay men who have been occupying an aban-doned house on Mills-borough Avenue say they are in total disagreement with the actions of their peers which have earned the disgust of the public in recent weeks.
"I try to talk to them, but is like they do not listen," said one of the men who claimed to be the 'leader' of the group. "If it was not for the way some of them behave we could live here good, good and no problem. But is like you can't talk to them because them want [to] overthrow you and mi nuh want nuh body beat mi off."
The Millsborough house occupied by 17 gay men.
1/4
The man said he tries to sell snacks at traffic lights to help care for his colleagues who also make their living from prostitution in New Kingston at night.
"The place can keep better," another young man who sports a rope twist hairstyle said. "If mi get paint mi personally would paint the whole place in one day."
One man, who opted not to give his name, but who said he was the caretaker of the property, told the Jamaica Observer last Saturday that three months ago he gave permission to two of the men to occupy the six-bedroom house after realising that they were sleeping on the streets in New Kingston.
"I gave two of them permission to stay there, but I realise that one and two can't stay anywhere. It's like they like when they bundle up and all of them are together. So you find that one invite two and those two invite others until you find a lot of them there. At one point I counted 38," he said.
However, after a month he asked them to leave because of their bad behaviour.
"I got them out and they went to sleep in an empty lot next door, but the police had to be called to remove them from there," the man said.
After being chased from the open lot, they found refuge on a property on the outskirts of New Kingston shared by the Jamaica Forum for Lesbians, All-Sexuals and Gays (J-FLAG) and Jamaica Aids Support.
However, after the groups lost the property, the men had to find somewhere else to sleep, so in April this year they went back to the house on Millsborough Avenue, an upscale St Andrew community where the homes of a number of diplomats, as well as that of a former prime minister, are located.
"Mi feel frustrated," said one of the gay men. "The situation stay a way because we have nowhere to go. It really frustrating and the whole situation just get to me."
When asked how he survives, he said he goes to New Kingston at nights to make money.
The caretaker said after interacting with the young men he realised that some wanted better lives. Some have left the house to avoid frequent fights among the group and after attempts by the police to remove them.
The caretaker said initially both J-FLAG and Jamaica Aids Support would take food and sheets to the men. However, he alleged that after the men started disturbing the neighbours and making them uncomfortable, the help stopped.
"But I feel they should not distance themselves from them because that is what they are there for," the caretaker said. "They should try to help them by bringing in some psychologists to talk to them and things like that. Because really and truly they need help. So I feel these organisation are unjust to them," he said.
"They (homosexuals) are the ones who build the organi-sations in terms of funding," he said. "It's their names that are used to get funding from intervention programmes overseas. They get the funding to provide for them."
However, executive director of J-FLAG, Dane Lewis, said the behaviour of some of the young men was not a factor in the assistance being stopped. The organisation, he said, simply ran out of funds.
"We used to give them foodstuff and clothing, depending on what they wanted," Lewis said. "And the programme we had we used to feed them; not just them, but other homeless guys. But the programme was put on pause because of funding, for almost two months now. We have not distanced ourselves because of their behaviour. It's not a strategy we employ to say if they behave we will feed them and if they don't we won't feed them, because we know that they are hungry and they need access to certain things, so we would not deny them that.
"The fact that they are homeless is really a by-product of the issues that they face in their communities. It shouldn't be because some people are misbehaving we should begin to turn our back on this particularly vulnerable subset of the community," Lewis added.
He said the organisation is continuing its effort to raise funds to provide the men with skills training, as well as their birth certificates so that they have documentation to be able to access jobs.
"Some of them do go through some level of assessment, whether it is HEART or Jamaica Foundation for Lifelong Learning," he explained. "The reality is that these young men are human beings first and we should [help them]."
But the caretaker feels much more should be done.
"At the end of the day, people overseas not going to hear about some gays living in a certain community, they going to hear the gays in Jamaica, so it will really let the entire country look bad. It affects all of us, that is the way I see it," he said.
But while he is sympathetic to their plight, he said he has no choice but to remove them from the house, which is littered with clothing on the floors in some rooms, broken windows, doors and cupboards, graffiti, and a pool with green stagnant water which the men say they use to flush the toilets.
"As far as I see, they are not going to change. They are uncontrollable, vulgar, annoying, they make noise and disturb people, they will jump the people them fence all 12, 1:00 o'clock at nights and steal jugs, water, sheets and stuff like that which is definitely not appropriate. Because they don't have any beds or anything, whatever they can take they take," he said.
"I spoke with them in the presence of the police and they said they were going to keep down the noise, but it still didn't work because they fight against one another," the young man said.
However, when the caretaker went to the Matilda's Corner police on Saturday, he was told by one cop that he needed a court order to evict the men.
"We can't go and physically remove them," the policeman told the Observer. "So we told him he has to go to court and get a court order before we can do anything."
Read more: http://www.jamaicaobserver.com/news/J-FLAG-denies-abandoning-homeless-gay-men_14447331#ixzz2W0tpUJXu