YES NANA TELL DEM
Hi Met,
I am the female in Canada being depicted in videos and/or pics that were sent to you and I have heard have now been put up as of today. Even though they say silence is key, I feel compelled to shed some insight on how this arrived to this ridiculous state. The devil who put me out there is my ex who is currently wanted for numerous domestic charges and uttering death threats and because of him being wanted, he felt the need to attempt to assassinate my character via social media. Let me give you some background on this man. He apparently does this to females when they leave him as a way to get back at them for doing such. When I met him, I didn't know he was like this cause if I did, I would have never given him the time of day. A lot of people are sitting speculating what they don't know. I did not know he was like this nor did it before. I am a person who is on social media but i don't follow up with mix up because I have always been busy with my job and my schooling. I have been going to school part-time doing various legal courses over the past couple years. Now when I met him, he was telling me he has a lawsuit with the Toronto police because they allegedly beat him up and me being a professional in the legal field, I gave him some pointers on his pending civil case cause I specialize in that area and we got to talking from that point. Jokes started to change a couple months into me being with him. He would watch the time I came home from work, cuss if the passenger seat he sat in my truck wasn't the way he left it (he's a tall man), monitor my phone and laptop when I'm sleeping, tell me I needed to change my wardrobe and worst of all, he started segregating me from my family. These are the traits of a sociopath and/or narcissistic person. I started reading up on people who suffer from that and this man fit the bill 100%. This man came into my life claiming he would go back to school to take culinary courses and work and that ended up being excuses. I would job search for him and get him jobs and he wouldn't keep them claiming some bodily pain from when he was beaten up, which was all lies. When I started to see this, I told him I didn't think this would work out as I have my kids to support, i'm going to school and my new house I bought closes in a year so I need to save my money for that. This man is a big man and eats a lot so I was spending more on groceries than I needed to. He is also a very serious alcoholic who would drink beer and not even brush when I really started to pree him. I became very depressed because at this stage in my life, I don't need to be with a man who thinks I am here to mind him. Never!! If I minded him, I wouldn't be able to do a lot of the stuff I'm doing now. When I told him I couldn't do this, he proceeded to blackmail me and tell me that no woman ever leaves him and if I leave him, he will leak my stuff to my enemies so they can spread it. So said so done. This man has abused me numerous times, one of which my kids broke into the room and witnessed first hand so all this that he is doing is being done maliciously because he is facing charges for what he did to me. To make it worse, he had the nerve to reach out to me last week and beg me to take him back and people saw this and it got back to him so now he's back on his rampage to try to destroy me. There is so much to the story but I feel it's time I say something so all who are coming with their bullshit speculations can shut the f**k up. I know hear that it is well known that he suffers from a mental issue and a lot of people wanted to warn me when they saw that I was dating him but couldn't because they knew how he was. The sad thing is the same thing he's doing to me was done to him in 2012 when he put up pics of his ex and she got him back by recording him crying because she told him she was going to f**k on him. He told me this and said he was suicidal and never left his house for two years. What kind of sane human being does that to someone when he has had it done to him. He has a hatred for women because no man will find the time to do this. Right now he's hiding and refuses to turn in himself. Many of you may not know that Canada enacted a new cyberbullying law last year and there is a criminal offence that has a maximum of 5 years imprisonment for distribution of intimate images and videos so all who are also maliciously sharing my stuff could also face charges too as this is now a serious police investigation that they are taking very very serious. I am a mother, a sister, a daughter, an aunt and a niece and I know all of you have females in your family or are females too. Who gets satisfaction seeing a man tear down a woman this way? He all tried to contact my former place of employment thinking I still worked there in an attempt to get me fired!! I don't care what anyone wants to say I am not a bad person at all. Any man I meet and talk to I always see if I can influence their life in a positive way and I tried to guide that devil to make something of himself so his daughters (yes he has daughters) could actually rate their dad and look up to him since he was doing nothing for them prior. To all the friends I used to be friends with, you guys know the path I am on vs your paths were very different and I know what I am trying to become in life so if it meant severing friendships, you cannot wrong me for choosing my path. You guys live for mix up and are redundant in your lives, I'm progressing and have always with no fraud and no handout. You guys can talk all you want cause when it come to clapback you guys can't step!!! My kids depend on me and will always be my priority.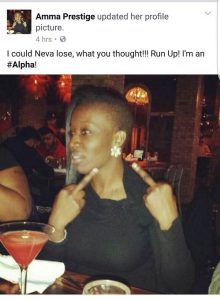 Joker wasn't taken from anyone so I never took anyone man and if two people are engaged, they can do whatever they choose too at home. Joker never use me. He would spend money too cause when I figured him out, I'd hide my money and throw it into my other account that he wouldn't see whenever he search my phone as I slept. Right now I'm sitting on almost 30gs to add to the 40 I already put down on my house (that he didn't even know about) so who's minding who cause I'm not a millionaire and I have kids to support. Stay there and listen to that pathological liar and you will get led astray. It's so comical cause I could sink joker to make him kill himself as he planned years ago cause although I was successfully able to remove the world star thing, I was able to find an embedded copy online which I have on my phone so Joker, it's not gone like you thought
. Nothing you guys put up is changing nothing for me over here hence why I will laugh with you. Many of you are in your housing typing with the roaches or mices around you waiting for typing time while I'm here making my moves. None of you guys are as bad as you think cause you cannot step to me no day!!! Yes, I have things to lose unlike you and have very good people in my corner who won't make me lift a hand cause they know how hard I worked to get here. You guys should channel all your hate for me into something progressive cause I guarantee you, you will then amount to something so your kids can be proud. As for Lloyd Hastings, you know I never did you nothing, just like the ex before me who you made lose everything…mark my words YOU WILL NOT WIN THIS. If there is a God above, you will reap what you sow. Don't feel sorry for me please cause I still get up everyday and walk into my office and get shit done like a boss!!! You're all lucky! Don't reply here, see me when you see me!
That's all I will say on this issue because one thing I believe in strongly is Father God and Karma and this too shall pass….